Posted by Jayvee Fernandez at February 28th, 2007
UPDATE: KFC has fries again. The world is once more, a better place.
Yesterday I wrote about how peculiar it was that KFC was running out of french fries. A few people left comments about how they (1) really did go to KFC to find that the fries have been replaced with mashed potatoes (not really complaining here) or (2) are so curious that they want to go to the nearest KFC branch and order a value meal that comes with a side order of fries and see whether they really lost stock.
As a blogger experiment, I wonder how much time it will take for information like this to disseminate – and on the other side of the coin, have a KFC rep actually be shocked to find out how Filipino bloggers are wondering what happened to their french fries. Honestly, I think they should be flattered – for a commotion like this to actually make it to the blogosphere.
So there you go. Go to your nearest KFC branch and order a meal with fries. Leave a comment here whether your branch has or not
Posted by Jayvee Fernandez at February 27th, 2007
Since last night there have been several anomalies with local domains and hosts. At this very instant, Yugatech is down (12 noonish), as well as several other blogs that have been jumping up and down like jack rusel terriers. PWiT mentioned something about the issue here about Dreamhost going down. Could this again be the janitor's fault? Could this be a terrorist attack on the Philippine Blog Awards?
Could these series of events be linked to the peculiar thing going on with KFC branches in the metro area? For the past 2 days, KFC has run out of french fries side orders in the metro (are you aware of this? Are you??). Two branches in two days — I order the same thing and they serve me mashed potatoes instead of fries because of lack of stock!!!
A conspiracy theory? Only time will tell…
Posted by Jayvee Fernandez at February 26th, 2007
Right now I'm sitting listening to Nikki Coseteng talk about her platform and her life when she was back in college. While that's happening I'm also reading up on the Philippine Blog Awards Google Group mailing list update, the PBA Blog and running through the list of sponsors for the event.
I'm thankful and overwhelmed with the support from the local and international technology and media communities. I just got word today that Inquirer.net and b5media are also sponsoring the event apart from the other sponsors who have already committed to this like ClicktheCity, WordPress, The Blog Herald and Globe to name a few.
Our most urgent requirement is a venue. Not that there are no venues – but we really want to get that "sweet spot" between elegance, space and location. We'd love to hear suggestions from the community on where we can hold the venue. We are currently thinking of the mini theatres in Ayala Greenbelt 3 or Shangri-La Mall. Other known venues would be The Events Place and Teatrino at the Greenhills Promenade.
I also just got confirmation from JV Rufino, the Editor in Chief of Inquirer.net, the biggest website in the country who has agreed to be one of the judges for the ceremony.

And now at this point, Nikki Coseteng talks about how a candidate will have to spend P200,000 for a 30 second ad on television for the elections (in reference to how podcasting can give you unlimited time on the Internet). They are spending a lot of money … just. to. get. a. job. And now, thinking about it, the blogger nominees for the awards don't have to spend anything to get recognized even more on the web. These are the new realizations of new media and I'm so excited to be a part of it.
Posted by Jayvee Fernandez at February 25th, 2007
Posted by Jayvee Fernandez at February 25th, 2007
Coming this March, TMNT: The CGI Movie seems to have most things done right. With a new continuity script (meaning no remakes from the original series) and the choice to go for CGI instead of foam mascot costumes, we're expecting to see another "new menace and new internal conflicts" plot with manga-like kung fu.
When I was in gradeschool, I remember always wanting to get in front of Friday night television as they would show The Real Ghostbusters and Teenage Mutant Ninja Turtles back to back. TMNT had so much appeal as pet turtles were the most common thing in the metro during that time. I had four of them and named each one after the famous painters ninjas.
Hopefully Kevin Monroe will be able to pull this one off adding just a bit more depth and eye candy to old skool action. Come to think of it, you can't get any more "old skool kool" with the descriptives "teenage" "mutant" and "ninja" put together to form an entirely solid concept. I imagine if the ninja turtles idea was conceived in this decade, it would be booed as something downright dumb. That's the generation time capsule phenomenon right there. In those days, an alien pet, mutant turtles and a robot sister were the epitome of entertainment in the 90′s.
Here's a comparative poster of the old and the new. Note the 90′s references to the "surfer dude" slang, big teeth and mascot material costumes and compare that to sleek 21st century minimalist CGI art.
After the defeat of their old arch nemesis, The Shredder, the Turtles have grown apart as a family. Struggling to keep them together, their rat sensei, Master Splinter, becomes worried when strange things begin to brew in New York City. Tech-industrialist Max Winters is amassing an army of ancient monsters to apparently take over the world. [SOURCE]
Here is a link to the theatrical trailer and another trailer that shows off a bit more of the plot.
Posted by Jayvee Fernandez at February 24th, 2007
Contrary to popular belief, it is the quiet ones who have the wildest sides. But with social taboo and whatnots, who cares?
Posted by Jayvee Fernandez at February 24th, 2007
I've been surveying friends who want to travel to the beautiful temple at Angkor, Cambodia. I'm opening up the idea to anyone in the PH who wants to come as this could be an exciting trip for bloggers / photographers. I realized how a lot of Filipino bloggers are also hobbyist photographers and the general sentiment to this trip was always on the positive whenever I would ask people privately. So now the open invitation begins.
Angkor Wat (or Angkor Vat) is a temple at Angkor, Cambodia, built for king Suryavarman II in the early 12th century as his state temple and capital city. The largest and best-preserved temple at the site, it is the only one to have remained a significant religious centre — first Hindu, dedicated to Vishnu, then Buddhist — since its foundation. The temple is the epitome of the high classical style of Khmer architecture. It has become a symbol of Cambodia, appearing on its national flag, and it is the country's prime attraction for visitors. [Wikipedia]
The tentative date for this trip will be come between September to November 2007. I really have no idea how much this will cost but I'm estimating a $600.00 package for a few days. The time between the trip and now is a couple of months which is enough time for people to save and stock up on equipment. I'm no travel expert but I really want to shoot this beautiful place. Any information on travel costs and the best time to go (is the 4th quarter really the best time to go — there are preparations to be made for this..) would be highly valued
Photo courtesy of Wikipedia.
Posted by Jayvee Fernandez at February 22nd, 2007
About a year ago I wrote an entry on why or why we should not have sexy girls grace the cover of gadget magazines.
It dawned on me after a year of enlightenment that the issue of sexy girls can be the best way to explain white hat SEO tactics. White hat SEO — as opposed to black hat SEO tactics.
The actual line between the two is quite thin, but, Black Hat SEO refers to things that are considered dark, or spammy, while White Hat SEO refers to "good" SEO. I determine Black Hat SEO as anything that, A. breaks any search engines rules, B. effects the users experience on the site for the worse, or C. shows different content to different user-agents. [source]
Liken your magazine cover to your website and the magazine stand to the search engine. Sexy girls on the front cover of gadget magazines (or any magazine that holds a demographic filling in the "prime of youth") is supposedly a magazine stall differentiator – the "sexiness" is supposed to "make the magazine rank higher in terms of visibility on the news stand."
So how then do you differ black from white hat SEO in this case? Well the clincher is all in the context (again) of how the sexiness was executed. Bikini for summer issue? Check. Bikini for no reason at all? Ugh. The "black hat" comes in when the magazine becomes invaded by sex when in fact its focus is actually far from what its niche is supposed to be. A gadget magazine that has boob-clad "lady sexy" can surely ruin the reading experience.
Buy the latest issue of Mobile Philippines with the attractive, wholesome and geeky Iya Villania on the cover
Posted by Jayvee Fernandez at February 22nd, 2007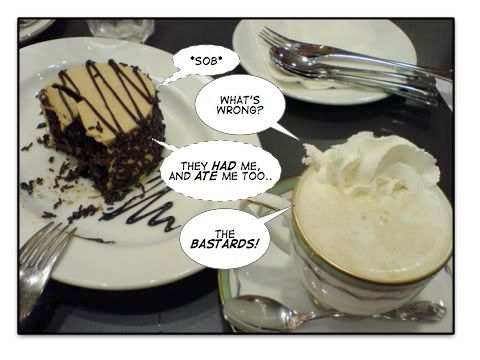 The best of times ended when I received my high school graduation diploma. I had no idea that these would be the "best times" in my life as quarterly exams and unit tests were supposedly the most important obstacles in a preteens life.
And then the real world happened and "we" all went on to having some sort of ideal when it came to changing the world." Of course, these ideals slowly got watered down by the real world – the demands of work, failure, relative success, and relationships.
And so my crux. Under the influence of social lubricant last night, a few friends gathered and the question of how long will blogging last came up. My answer was rather straight to the point (come to think of it I was barely awake so I'm not sure if I conveyed my message right).
Blogging by itself will be around for quite a while. Relying on blogs are a main source of income will be highly dependent on your personal and professional goals. Are you happy to make the extra $200.00 to augment your income? Or are you more interested in the long term effects of blogs as a prime mover in media? Do you want to play it safe and have a "fallback" with your 9-5 job or would you be willing to concentrate 100% of your efforts in taking the "nestea plunge."
A respected industry person once asked me, "do you want to be part of the noise or the conversation?"
UPDATE: Added the word "professional" to the title as the post might be misconstrued as blogging fanaticism
Posted by Jayvee Fernandez at February 20th, 2007
It's actually quite fun (and geeky) to analyze the Inquirer.net tagcloud. It is fun because you get to see, as a visual learner, the magnitude of certain events that occur in the Philippines that make it to the news.
The more prominent tags would include BASKETBALL, CRIME, ELECTIONS (2007), ENTERTAINMENT, and POLITICS. Interesting too the semi prominent tag of "acts of terror." This is indeed an interesting microcosm of what makes the news
According to JV Rufino, editor in chief of Inquirer.net these tag clouds are more reflective of what the editors like writing about. Big truth in this, but doesn't it also reflect what remains in the hotseat of Filipino life? In summary, the Filipino loves several forms of ENTERTAINMENT including BASKETBALL, and other spectator sports like the ELECTIONS, POLITICS and the CRIME we see on television that become sensationalized into a soap opera.
Posted by Jayvee Fernandez at February 19th, 2007
This is exciting news for Philippine new media. I mentioned in the spirit of transparency that I'm involved in building Inquirer's podcasting efforts. I'd like to introduce you to the page where readers can stream or download the spoken word shows of Inquirer.net.
Currently the page is serving two programs – the Eleksyon 2007 Candidate Podcast as well as the hackenslash podcast.
Can it really be this soon that the mediums of television, print and radio are showing signs of evolving into the new media model? Surveys say that television still is the number one source for disseminating information, but with the way the working Filipino lifestyle is changing, portable media seems to be the more practical solution for the Pinoy on the go and for those working in the call center industry who just don't have the schedule to give to TV. Will portable media in the form of iPods and PMPs may be the more practical choice for Pinoys in the future? This is I guess, a function of how much valued content third party content providers (umm bootleg tiangee or "flea market" DVD sellers?) can flood into the market?
Why do you think the pirated DVD industry is popular? Not only is it cheaper to buy (this is the main reason), but buying the whole season of Heroes for instance gives you the convenience of the sacred "DVD marathon" for the busy folk.
After re-reading this post, I figured that my conclusion doesn't remotely relate to the purpose of the original post. Click here for the Inquirer.net Podcast page.