Posted by Jayvee Fernandez at March 23rd, 2007
Yesterday I spent some time at the Inquirer.net office with Dr. Martin Bautista of the Kapatiran Party. As one of those running for the 12 seats of senate, "Doc Martin" comes from a fresh non-political background as he is a doctor and an overseas Filipino who came back to do some good in this country. He had many interesting things to say in spite of him being labeled by some as a "Don Quixote chasing imaginary windmills." From the combined perspective of being a doctor, a private citizen with no history in politics as well as an overseas Filipino for several years, he brings fresh meat on the table on the realm of politics, governance and where the Filipino should put priority to do damage control in helping resuscitate the nation.
In my newfound political peregrinations, I am invariably asked why I am fighting a lost cause. I always begin by asking them what's lost because I certainly don't see anything lost in my cause. And here's the time they allude to a certain amount of pity that they feel for me, a sweaty and sunburned physician asking for their vote. I still haven't paused long enough to think of a perfect response because I am treating this challenge the way I have conducted myself throughout my life. I am going to pour everything that I have into this very worthy cause. (source thanks to Lynne)
And then it hit me that "Doc Martin" could be anyone with a fresh perspective on things. Someone with an informed opinion, has a voice with the masses (the Doc gets asked for medical consultations during campaigns, plus he also looks like Lucky Manzano) and a clear vision of where he wants to bring the country, can run for senate. This is by the way a brazened statement as it can also be the primary reasoning for nuisance candidates to run.
So now its really interesting that a dedicated blogger-by-profession can actually meet these three points I mentioned earlier. I mean if Loren Legarda is a good example of how traditional media can penetrate the senate and do a good job what's stopping a travel blogger to give a fresh take on tourism, or a technology blogger to file and review bills on the current state of Philippine technology?
I know, my idea is far off. But we do live in crazy times. If an actor can become senator, why not a blogger?
Posted by Jayvee Fernandez at March 22nd, 2007
Here are personal opinions on why there are so few local podcasters compared to their bloggers. These can actually serve as the main reasons why podcasts are rarer than blogs, and a number of these reasons are quite obvious.

1. Unlike blogging, podcasting can be more expensive. Hosting fees, a microphone investment and other such expenses can turn you off, big time. So you lose even before you started.
2. Podcasting requires you to commit more. If blogging only lets you commit your ideas on the typewriter, podcasting forces you to commit your voice on the table, and rather forcefully as you can't edit what you just said once its published unless you take the whole podcast down.
3. It sucks to talk to nobody. Finding a guest host or anchor can be a bit tedious. Talking to yourself can also suck. A solution here is to do what David Pogue does in his podcast — read your own blog posts out loud. Sorta like an interpretative oral reading contest.
4. Bigger language barrier. If blogs are much easier to do in English, this is not so with podcasting. In general, it would be more correct to say that the average Filipino in Manila speaks in Taglish, which is a combination of Filipino and English and this has been engraved in our culture, that it is very hard to change. Case in point is the Band of Bloggers podcast which does the show in Taglish.
All in all these are valid reasons why podcasting is sparse here. But then again, the real reason why podcasting isn't so hot here is actually a misnomer.
(more…)
Posted by Jayvee Fernandez at March 20th, 2007
Minic Rivera wrote about StudioNow, a new service that allows the public to submit video editing jobs to a pool of editors worldwide.
The launch of StudioNow ushers in a new era of video production by directly connecting consumers with expert video/movie editors. The StudioNow Editor Network includes a range of expert editors, from film-school students to major-network TV and Hollywood feature film professionals. Editors can sign-up to feature their editing talents and are assigned projects matching their skill level through the StudioNow website.
In the social media scene …
This is especially helpful for bloggers who do not have the resources or knowledge to create good quality video shows. All they need to do is create the raw recording with a cameraphone and submit the content to the pool of editors who will execute your project with all the specific instructions taken into account.
StudioNow is also hiring video editors who can work from anywhere around the world
Posted by Jayvee Fernandez at March 18th, 2007
I had an idea. So did Yuga (it rhymes!). We had the same idea. And when you're stuck in Davao for 3 days, weird stuff can happen. Like a podcast project. This is something that should have been done long ago, but with my lack of resources (my old iBook's mic was shot — having it repaired proved unsatisfactory as GarageBand kept hanging when trying to record really long stuff with things in the background) the project never pulled through. This podcast was created using Garage Band and the built in microphone of my MacBook. Everything was recorded in the hotel room.
BoBCast, Episode 1: Breakfast with Piolo
Hosted by: Jayvee & Yuga
Guest: Aileen Apolo
Time: 20 minutes
Summary:
Davao Blog Party
Casa Leticia
Costa Marina Beach
Wifi in Davao
Bayan Telecommunications
Smart Mobile TV
Palm Treo Launching
Max's Power Breakfast
Blog Awards
We're thinking of starting a completely new site it as an entirely different project from our own personal ones. The niche of the PH Band of Bloggers is to talk about the online efforts in the Philippines including new media, internet marketing and the people behind it.
Posted by Jayvee Fernandez at March 17th, 2007
Show Notes:
Welcome to Puerto Galera
Yuga gets introduced
Marc Macalua and Sharms get introduced. They're getting … married??!
Rico gets introduced.
Sasha's b5media jacket is waterproof
Battery dies (deus ex machina)
Okay, this needs an explanation. I had always wanted my own podcast project. Unlike blogging though, podcasting needs a stronger push to implement so I decided to do a pilot recording of Episode 0 at the beach with a few friends.
To those listening from abroad, I apologize for the lack of coherence if you do not understand what we talked about. Listening to this now, I realize that we were really greased with social lubricant.
Thanks to Choy and Brian of Creativoices for lending me their portable Olympus recorder. Sad that it ran out of battery in the middle of everything.
Posted by Jayvee Fernandez at March 16th, 2007
Yesterday, Amor Maclang of Geiser-Maclang PR asked me rather nicely if I could bring some blogger friends to the Palm Treo 750 launch at The Embassy, The Fort.
Geiser-Maclang is one of the few PR agencies in the Philippines that has been rather active in taking bloggers seriously. Of course, this is a loaded statement, as it still is not obvious how "serious" they have been. But nonetheless, Amor is taking baby steps in getting to know the Philippine blogosphere (she is a blogger too). Parteh anyone? I only have limited slots (I can't acommodate the entire blogosphere … hindi kaya ng powers ko yan)
If you are interested to come (preferred: if your blog's niche has to do with technology), please leave a comment with your name and blog title and I will forward your names to her. The cool guys and gals from MaPalad (Philippine Palm OS Users Group), the Pinoy Windows Mobile friends and the Microwarehouse peeps will also be there.
The Treo 750 is the Palm-manufactured device that runs on Windows Mobile. Some say this spells the death of Palm, but in a world where you can boot Windows on an Intel Mac, there's no saying where technology will go today. From the first impressions of the 750, the word is that Plam did a very good integration of the Windows Mobile 5 OS onto the Palm hardware.
The said event will be at Embassy, The Fort at around 8:00 to 10:00 PM on Tuesday. March 20 2007. In return, please blog about the event.
Posted by Jayvee Fernandez at March 16th, 2007
Today I witnessed the press launch for the new and improved Bayan Telecommunications. Yep, they're back! With a vengeance. Bayan Telecommunications released a consumer satisfaction survey on telcos and they have seen that:
90% of landline, 85% of Internet and 92% of cellphone users have experienced frustrations with their service.
Billing problems, slow connections and poor customer care were among those cited as reasons for their frustrations.
25.7% of respondents stated that they are "steaming mad" with communications technology.
45% of Internet, 23% of landline and 32% of mobile phone users in the country have "moderate or higher levels of distrust" for communications service providers.
1 out of 4 Filipinos feel that telecommunications companies in the country have not been able to deliver on their promises.
Get this. The new and improved Bayan Telecommunications will offer rebates on downed services and have invested a sizeable amount just for this:
With a 50-million peso rebate program to back this quick-repair promise, the company assures subscribers that it does not just talk the talk, but also walk the walk. Mr. Fafunwa explains that in their program, if a phone or DSL connection remains un-repaired for more than 24 hours, "a 1-day refund (equivalent to 100 pesos) will be given for every four hours the problem stays unsolved". If a subscriber's connection is out for more than 72 hours on the other hand, his or her service fee for the month will be waived. [Quoted from PRESS RELEASE]
In addition to this, Bayan Telecommunications also launched their SPAN service which is basically the "mobile landline" product, allowing you to bring about your landline and do unlimited calls. This is the Zen between mobility and fixed lines.
So Filipinos, what do you think? Will this PHP 50,000,000.00 rebate program of the new and improved Bayan Telecommunications (note that they have done a name overhaul also from "Bayantel") prove to be the competency that will push them ahead of the other competitors? Or is it a bit sketchy?
Leave a comment
Posted by Jayvee Fernandez at March 16th, 2007
Today I was browsing through Alister Cameron's blog (love his content) and was curious about his post on the Filipino link builder who can't write.
I went over to that blog to check it out (something I will usually do if you leave me a comment), and something was immediately obvious to me: this is a caucasian male who clearly has a good command of the English language, and (from the Contact page) lives in Ontario, Canada. So it seemed immediately strange to me that his comment on my blog post was written in broken, second-rate English.

What you can't see from the front-end of my blog is what my admin page tells me: that the IP address of this commenter is 58.69.208.247. I do an RDNS lookup, a traceroute, a geo-ip lookup and all that jazz and come up with the confident fact that the commenter is in the Philippines! What the?!
What the?! indeed! This makes me reflect back to an old post as to why Filipinos would make good bloggers. And there was a lot of pride in my words when I did mention that we have a good command of English as it is a national language in this Asian country, apart from our local Filipino.
But what's peculiar was the RDNS thing. I'm clueless and would rather leave this up to the experts who can explain why something like this can happen.
Posted by Jayvee Fernandez at March 15th, 2007
I'm sure you can relate. Whenever I ask new acquaintances if they use Yahoo! Messenger (or any other IM that asks for a username), most of them give a grin and hesitate before disclosing that "hey I made this account when I was in college so pardon the name." Usually these ID's would consist of a very creative ADJECTIVE + NOUN + NUMBER combination such as "purpledragon8300″ or "cutefairy1978″ (I thought of these at random so any similarities to real life ID's is purely coincidental). These ID's which we formed back in high school and college really catch up with us when we start working and our boss asks us for our IM ID. It's embarrassing. It's mortifying.
It's one of those things which people have to ask you over lunch at the office … as to why the VP of Sales has the userID 'kissmebebe144.'
Posted by Jayvee Fernandez at March 13th, 2007
A few days ago, Aaron of Technosailor wrote a piece on Twitter and how it further accelerates the machine known as social media. Though the noise may prove to be seemingly useless but entertaining (I'm eating peanuts now. They're in a big bag … not a small one) he points out something that can spike interest:
Then someone posted yesterday, I thought it was Scoble, and commented that he uses Twitter because it gives him an eye inside the mind of early adopters. Now that is useful. So I set up my account and to be honest, it's addicting. [source]
And so like him, I went on and created my account, added up a few friends and amidst knowing what everyone does on an hourly basis (so far, everyone on my list thought 300 was WOW) but I also have some occasional gems like knowing when Leo Laporte uploads his TWiT podcasts and know when Chris Pirillo asks for feedback on tech events such as the recent SxSW conference.
Why Twitter Works:
It gives an eye inside the mind of early adopters. Aaron explained this already.
It can replace live-blogging. It is much faster and easier to do live twittering as all you will need is a phone connected to GMail chat

It is cheaper than SMS. Similar to how people in the Philippines (the SMS capital of the world) use web based applications for SMS such as Chikka, Twitter can work the same way as long as you and your friends are configured to receive messages only from each other.
It can be so useless to the point that its engaging. I remember my old literature professor talking about how useless literature and the arts can be — but then he added that "in the most useless of things can you find the most profound lessons."
Are you on TWITTER? Add me up. My profile page is here. I'm going to try to do a live twittering of the Davao Blog party this weekend and the Philippine Blog Awards this 31st via Blackberry chat.
Posted by Jayvee Fernandez at March 12th, 2007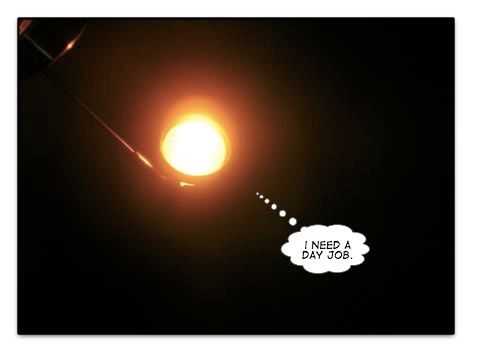 Last Friday, I got a text from a PR agency inviting me to a technology event. This was nothing new as I've been to dozens of press launches for products and services, especially in the technology sector.
Now here's the interesting bit. I thought I had been invited as a member of the press – by virtue of magazine masthead I still help out with Mobile Philippines as contributing ed, so I courteously forwarded the message to our assistant editor who handles the deployment of people to these launches. Now as it turns out, I had been invited not as a contributing editor, but as a blogger (this is not the first time this has happened as Yuga and pals had also been invited to press launches)
This is actually an eye opening revelation for the local blogging community as I have already confirmed from two PR agencies that they value blogs as valuable SEM tools for spreading the word about their client's products and services. Part of my advocacy in my "unique situation" with media is to try and push for "journalist rights" for bloggers. Not all bloggers, mind you. But bloggers who have been seriously striving to make a name in their niche. As a result they have become authorities in their niches and mavens within their contemporaries.
How far would a blogger go to be recognized? Are you vying for a spot in a press launches — just like how Bono's nameplate says "Rock Star" in United Nations sessions, would you be proud to be called a "blogger" side by side editors and reporters?